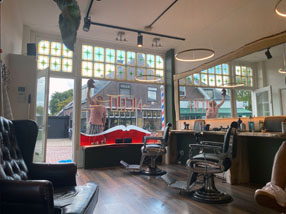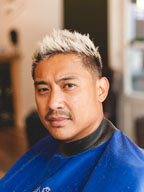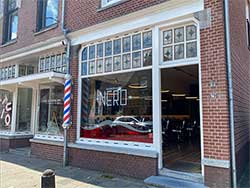 ABOUT NERO
In the picturesque village of Laren you will find our characteristic barbershop Nero Barbershop Laren. In our business you are assured of proper advice regarding your hair type, model styling, and suitable products.
Our experienced barbers are armed with high-end hair products for your hair and beard/mustache.
So you are in good hands when it comes to shaping your haircut mustache and/or beard.
But there is more… At Nero Barbershop we attach great importance to the feeling in the shop. A visit to our barbershop should not only have a practical purpose it should be an experience a special moment. A good conversation or a light-hearted chat is at least as important to us as the haircut; the feeling that a customer comes home as it were in our shop. That not only makes our customers happy but also makes our job so damn great to do! With this combination of focus on quality and casualness we want to keep Nero Barbershop Laren distinctive from the rest.
Over the years we have received various nominations and awards with this vision ranging from 'best barbershop' to the 'oscars' of the hairdressing industry (ANKO awards).
This gives us an extra boost to continue and develop!

We look forward to welcoming you in our shop at Naarderstraat 29 (near the Singer museum). We recommend that you make an appointment to be sure of a spot. You can make your appointment via our website or via our app which you can find in Google Playstore and Appstore
We would like to invite you to our comfortable chair and we will embark on a stylish adventure with you while enjoying a good cup of coffee!
Character
We are headstrong, caring, patient and at times a touch rebellious.
OUR SERVICES
Everybody loves a sharp cut man.

Clipper
All in 1 length

Cut
We give you a cool or decent haircut. A 'sharp cut', as the English say (the Americans too by the way)

Beard
Beard trimming inc shaving contours and neck

Shaving
Sit down for an old-fashioned good shave
Home
Take a seat in our comfortable our chair and enter that pleasant state of being. You will automatically feel at home.
VISITING HOURS
View our opening hours here.
Bold
It takes great courage to cut something off, from the barber but also requires it from you as a customer.
PRICE LIST
Every man is welcome at Nero Barbershop. We give you a cool or neat haircut. A 'sharp cut', as the English say (so do the Americans, by the way). Or take a seat for an old-fashioned good shave. A fresh shave like in an old Hollywood movie, but for real.
Well, our prices: